Teaching unions have today launched a campaign urging the government to defuse the "timebomb" of asbestos in Norfolk's schools, as it emerged that nearly 85pc of them contain the deadly material.
Exposure to asbestos, sometimes known as "the silent killer", can cause mesothelioma, an incurable cancer that affects the lining of the lungs, but which can lay dormant in the body for decades before it develops.
Norfolk County Council currently lists 392 schools with asbestos on their premises – including 120 which are now academies, and the responsibility of the individual trust that runs them.
Suffolk County Council last year said it had 285 schools which opened before 2000, "and therefore it is possible they contain asbestos".
Both councils cited advice from the Health and Safety Executive that asbestos does not pose a risk to health "when it is intact and in good condition".
Bob Groome, Norfolk branch and district secretary of the Association of Teachers and Lecturers, said: "It's a timebomb that is waiting to go off.
"Schools just don't have the money to pay for it, and with the cuts being made to county councils they don't have the money to pay for it.
"The government should pay, because if they can afford for it to be removed from Parliament and other government buildings, we feel it should be removed from schools, too. Why should we put our future generation at risk?"
He urged parents to contact their MPs to put pressure on the government to remove asbestos from schools, and ask to see their school's asbestos register if they had any concerns.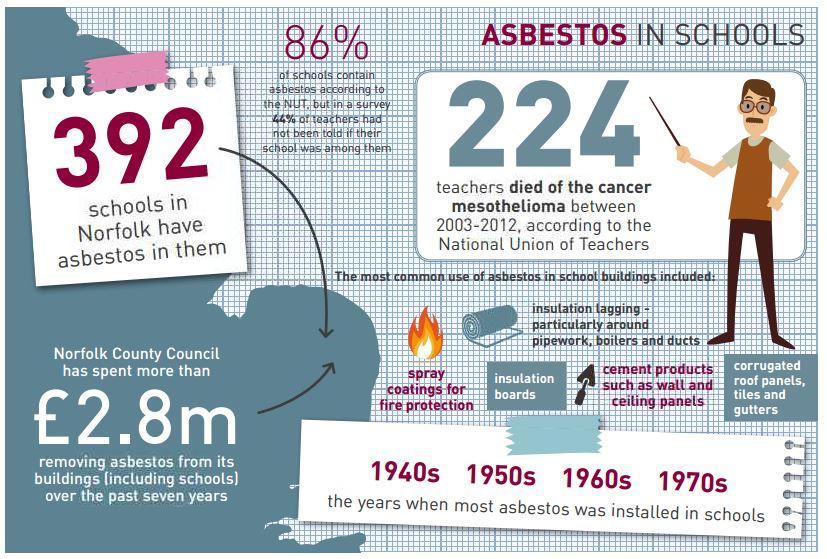 Last year, the All-Party Parliamentary Group on Occupational Health and Safety said much of the asbestos in schools is "in locations that are vulnerable to damage by the children". It recommended: "The government should set a programme for the phased removal of asbestos from all schools."
Brian Conway, headteacher of Notre Dame High School in Norwich, said the unions were right to ask the government, but was not sure if the government would be able to respond.
He added: "Unfortunately, it's simply not something that schools can afford, or plan to do, at the moment with the current financial situation. If you look at it as a national problem, there needs to be a national solution."
Roger Smith, chairman of Norfolk County Council's Children's Services Committee, would not be drawn on the unions' campaign, but expressed confidence in the council's management of sites that include asbestos.
He said: "We have a dedicated asbestos monitoring team that undertakes visits on a risk basis to council school sites in Norfolk with asbestos containing materials to check on their condition, and will remove any asbestos that they assess to be necessary.
"Over the past seven years the county council has spent more than £2.8m to remove asbestos-containing materials from our buildings, including many schools, and will continue to implement programmes of removal where the monitoring process indicates that this should be done."
A Department for Education spokesperson said: "Nothing is more important than the health and safety of children and staff in our schools – that's why we are investing £23 billion in school buildings by 2021. This will help ensure asbestos is managed safely and that the amount in school buildings continues to reduce over time.
"Last year we published a comprehensive review of asbestos in schools and we are implementing its findings in full – we are continuing to work with the Health and Safety Executive and others on this issue to transform the way in which we collect information on asbestos to better our understanding."
Norfolk headteacher who was exposed to asbestos
Jennifer Earnshaw was exposed to asbestos fibres when the Norfolk primary school she worked at was undergoing renovation.
Mrs Earnshaw, who was headteacher at Attleborough First School and Toftwood Primary, was diagnosed with mesothelioma in 2011, and received compensation from Norfolk County Council.
Her daughter, Sally Millsopp, said: "When you are given that diagnosis it is absolutely terrible, because that person you love has such a short timescale. It was just such a shocking diagnosis, especially when you are a robust, healthy person who has never had any health problems."
She described mesothelioma as "an extremely painful condition".
Mrs Earnshaw lived for almost four years after her diagnosis – a length of time her daughter said was "almost unheard of" – before she died in May 2015, aged 76.
Ms Millsopp, a practice nurse who lives near Reepham, said she may have inhaled asbestos fibres herself when she visited her mother's school during the building work.
She said she supported calls for the government to fund the removal of all asbestos from all Norfolk schools, and added: "[Teachers and children] are potentially being exposed to it every day. In years to come, there could be a terrible outcome for a lot of people, and we don't know.
"That's the problem with the disease – it lays dormant for 20 or 30 years – and then you realise you have this devastating thing going on.
"It's a death sentence. It's just a horrible thing. The more people who know about it, the more people can take some measures themselves."
Other local union branches supporting the campaign include the National Union of Teachers and the NASUWT.
Source: Eastern Daily Press